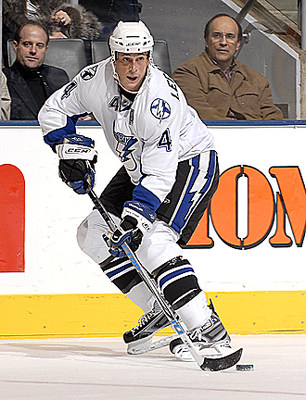 Good timing by the Wings to have ugly sweater night when a team with an ugly sweater and the worst socks in the league come in.
Recap
The first period started up very open ended with extremely few whistles. The Lightning seemed freshest out of the gate with more speed and higher pressure. The Wings slowly worked themselves back in the game and some good plays by Leino created a couple of chances for himself and Z. The Wings took the lead on a long pass from Rafalski which Miller took down with his stick from around breats height. Bolts goalie Mike Smith came out trying to pokecheck, but Miller just sent it past him. Beautiful goal! If the Wings let him go when everyone are healthy I'll kill someone.
The Wings seemed to get energy from this and started pressing harder. In the next few minutes they got their passes right, got out of their zone well and got some chances. And Leino continued to create chances. Then Brad May finally got up and fought. Konopka got some big swings in, but May defended himself decently. Kind of purposeless fight though. After that the game opened up a little, but the Bolts had few good chances on Howard and on the biggest one Lebda made a nice defensive read. Detroit definitely controlled most of the period. I thought they handled the puck well, made (mostly) smart passes and played with a good sense of urgency. The weirdest happening of the period was when a puck bounced out through the small hole in the plexiglass for the cameras. Towards the end of the period Öhlund ROCKED Z. I loved how Eaves came up and went after Öhlund after that. Sadly he got a roughing penalty for it. The PP was a shooting gallery, but luckily they didn't get any closer than a post. That was the end of the night for Zetterberg. Upper body injury.
The second period started with the last 16 seconds of the penalty. It was killed. After that the Wings dominated, got some chances and got rewarded with a PP. Which was promtly turned into a 4-on-4 by a hook by Leino, who kinda disappeared after the first ten of the first. Right before the midway point it opened up and Ken though a Wings icing was a penalty and then a handpass. Then Janik got two for non-interference. Thanks Gary. Ass. The Wings killed in nicely, thanks to, among other things, a great play by Drew Miller. The Lightning looked sharp after that and had the pressure in the middle stanza of the period. They continued that in the next minutes and really took over the game except for a few Wings chances. The Wings looked like they were just holding on. The energy seemed to be gone and they looked like they just wanted to save the win. The passes never connected and they didn't get much offensive zone time. Then Bertuzzi took a stupid high sticking penalty. Luckily the Lightning PP was quite immobile and the Wings killed it nicely. Howard had a good period and robbed the Lightning and Stamkos especially several times. The Wings really needed to step up in the third.
The third started with some extended zone time for TB cause by Stuart losing his stick, but it ended with Halpern taking a puck in his face. The Abbie got the world's cheapest goaltender interference penalty. I want a tin foil hat. That wouldn't have happened to any other team. The stellar Wings PK killed it nicely again. After this it went back and forth until Datsyuk created a turnover just inside the offensive blueline. Got it to Homer who handled the puck well and served Bert an open net. 2-0. I jumped up and down. Fact. Then, shortly after on a 4-on-4, Nick served Eaves who made it 3-0 with a beauty. The Wings really woke up for this period. After the goal the Wings really took over for a couple of minutes, but then the game started swinging back and forth. Three and a half minutes before the end the Wings got a PP. Decent PP, but no biscuit. Howard had to make some stunning saves towards the end. But it went well and he got his first career shutout. And Babbles got his 300th win.
The closest I came to a funny Bolts pic
Thoughts
- Mickey Redmond really can drop some legendary names when telling stories huh?
- FSD had a good point about the goal having similarities to the legendary Bobby Orr flying goal.
- I pray, pray that Z was just shaken up and not badly hurt. If he is, this season is over. I don't wanna think about it now. Maybe tomorrow when we know more.
- I love how Ken and Mick doesn't know the difference between Mats and Marcus Näslund.
- Rafalski had a great game. A nice assist and several good defensive plays.
- Doug Janik looked pretty good. I like him.
- Some guy screamed fuck loudly four times early in the third. I like it.
Keys to the game
- Can the Wings come out and play from the first faceoff for the second game in a row, even though they've had 2 games off?
They started pretty decently and really got it going after about five minutes.
- Can Bertuzzi get back on track?
He scored. So yes.
- What will Kris Newbury do? Tackle a ref? Score a hat trick?
Not much. He tried to pick a fight with Todd "Fridge" Fedoruk, but he doesn't fight anymore. Decent game.
- Ville Leino must start playing well. NOW!
He started out pretty good, but faded in the second half of the first and the second period. He was quite invisible in the third too.
- Nick really looked like he wanted a goal against the Dogs, can he get one tonight? How about Z and Dats?
Z played decently, but didn't get any offense before he was injured. Datsyuk had a great night and got a nice assist. Same goes for Nick. No goals for either though.
- Can this game make me have any other feeling than boredom towards the Lightning?
Nope. I still hate Tanguay, but that's the only thing.
Play of the game
Lidström being extremely patient in serving Eaves.
Player of the game
I wanted to go with Miller who scored, had a great game and was really due for this, but nothing beats first career SO. So congrats Jimmy Howard!
It's 04:00 AM and I am tired. So goodnight everyone. Let's hope for good news tomorrow