This picture is just linked to, because I don't want a half naked Sarah Palin to scar my frickin eyes everything I go into my blog. However it is the first image search result for "Chicago Blackhawks funny"
I just wanna start this off a song called "The Enemy" by an excellent NYC Thrash metal band called Anthrax. Yeah, I know this song is about well, a certain guy and a certain people at a certain time, that not even the Hawls should be compared to, but hey, the song rocks! Have a listen people:
So, this is a game I really don't look forward to at all. The Hawks are one of the premier teams in the league right now and the Wings are without 8 regular guys. Hurray! I just hope that the Wings can come back from the stupid game last night and have one of those performances where they show character and beat an opponent that they really logically shouldn't be beating.
The record
The Hawks are number 1 in the West with 47 points in 33 games and a record of 22-8-3. That's good. At home they are 15-3-1, so it's quite the mountain the Wings will have to climb tonight. In december they have gone 6-2-0, so they're not exactly in bad form either.
The goalie
Fuck knows which goalie is starting, so I'll just bring you the stats on both of them. Cristobal Huet, the guy we all saw as the weak link of the team has actually had a decent season and has played 25 games with a record of 15-7-2, a GAA of 2.09 and a save percentage of .913. His backup Antti Niemi has been better though. he has played 9 games with a record of 7-1-1, a GAA of 1.76 and save percentage of .927. And where Huet has 2 shutouts, Niemi has 3 (out of 9), that's fricking 33,33% of the games this season. So the Wings will need to crash the net hard, create traffic and do something to break the goalie, whoever it is.
The players
The offensive juggernaut of Chicago is actually the best defensive team in the league this season (thanks a lot to Keith and Seabrook), but they have some offense too. They're top scorer is Patrick Kane with 34 points followed by Duncan Keith (26), Pat Shark (25), Toews (22) and Kris Versteeg (19). 14 players have 10 points or more. They're top goalgetters are Kane, Sharp, Toews and Versteeg all with 10 in front of Versteeg with 9 and Troy Brouwer with 8. Toews dominates the plus/minus with a +16 rating, followed by Kane and Seabrook (+12), Hjalmarsson (+11) and Sharp and Campbell (+10). The team worst is former Wing Tomas Kopecky with -8.
This team also has Marian "soon to be crushed by Brad Stuart" Hossa. He has played 11 games, getting 5 goals, 5 assists, 2 PIM and a +2 rating.
The Norwegian lesson
The name Byfuglien is definitely Norwegian. It's not extremely common here, but I know several people with that name, and no other language could bring forth that name. I'm always amazed that you don't pronounce the "ug" in the name, but hey, it's english, so you can all feel free to massacre a traditional Norwegian name. In Norwegian the name would be pronounced Bee-fuel-ian or something like that. The name consists of three words (+ an article):
- By = city
- fugl = bird
- li = hillside
- en = in itself this means one, but at the end of a word it is a definite singular article, like the english word "the".
So the name can be translated to The City-bird-hillside. Nice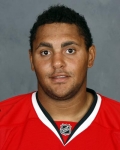 A typical Norwegian look...
The Wings
Ozzie goes tonight instead of Jimmy "
possible American Olympic third goalie
" Howard. Here's what I will be looking for:
- Stuart's flattenting of Hossa and Kopecky
- 20 cent will try to mug Brad May when Brad cracks a Taxi driver joke at him
- Can Dats, Homer and Bert keep up their good stuff?
- Will Bertuzzi do any defensive errors that will make me depressed for another 24 hours?
- Will Brett Lebda be "fucking terrible" or "just really bad"?
- Nick, goal, need, now!
- Can someone not on the first line score?
- How whisky dick will the PP be?
Prediction
I'd rather not make one.
Other stuff
- I am sorry if my haircut caused the loss yesterday.
- For those of you who haven't voted in the poll (below the picture of Vernon and Roy at the Fight Night), do it! And get your Blues fan friends and everyone else with inferiority complexes about the Wings to do it too!