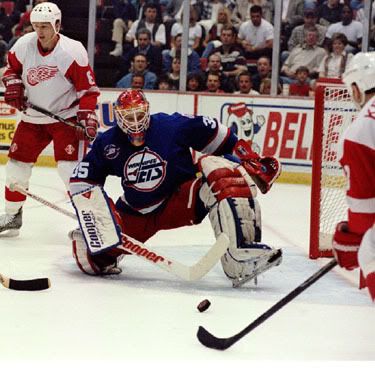 Everyone knows this is who we really SHOULD have been meeting today
So, another week has gone by and I'm gonna look ahead a bit and see what this next week has to offer, and probably get it absolutely all wrong when I talk about what to expect.
After a week that play-wise was not the best, but where the Wings pulled out 4 points out of 6, they have four games on tap this week:
- The first one comes at home against Gary's Coyotes tonight. I'm gonna write more on this game later today, but for me this is an important game. The Coyotes are ahead of the Wings in the standings, and every point we can get on a team like that is very important. Also they have one of this year's best goalies in Ilya Bryzgalov, so the struggling Wings offense will have their work cut out for them. The big question has to be wether or not the Wings can manage to ride on their two victories, give a better performance and pull out a win here. Even more importantly maybe is the question about wether or not Todd Bertuzzi can keep up his level of play in this game.
- Then on thursday we have the Tampa Bay Lightning at home, which makes the Wings have two games in a row against teams that in my opinion should not exist (relocation NOW!). Tampa has struggled a lot lately after a good start, so this is one of the games that should be won. No, must be won. If the Wings hope to get a playoff spot, winning against weaker teams is a must.
- On saturday the Wings head to Dallas to meet the Stars, ending a three game-stretch against the teams with the worst economies in the NHL right now. This is an afternoon game, something the Wings tend to struggle in, so this is gonna be hard one.
- And then on sunday, game of the week in Chicago. Needless to say, the Wings need to win these division games, and this is also a true rivalery game and their first game against Hossa this year. The Hawks lost Kane last night, but it seems like it is only a cut, so until I hear anything else I will assume that he's gonna play. So the Wings have their work cut out for them in that one.
On another not, the new Red Wings podcast called
The Obstructed View (direct link to it here)
premiered last night. I just listened to it and it is great! Interesting, insightful and funny. The host is Chris from
Motown Wings
and his executive producer Brian Kiernicki. With them this week they have an all-star guest list of some of my favourite bloggers, Kris from
Snipe snipe, Dangle dangle
, Michael Petrella from
The Production Line
and Casey aka. Mr. Norris Trophy from
Winging It In Motown
. Listen to it now! In related news I wanna point out that I speak good and clearly understandable English (when sober).