UPDATE: Montreal won 5-3 over Dallas so per 04:05 AM Central European Time the Wings are in the 8th spot 1 point in front of Kings, 3 in front of Wild and 5 in front of Stars.
James Hetfield, rythm guitarist and singer extraordinaire.
So...As I begin this I am a bit pissed cause people at A2Y called Metallica one-trick ponies who could never do anything else than angry and therefore couldn't do the soulful Turn the Page. They also ragged on Load, Reload, St. Anger and Death Magnetic (3 first are different and great and the last a majestic return to top form). I guess I will sum my thoughts up by advising everyone to clean their ears and go listen to the albums again. And then go see them live. No one will ever better them. Ever. Again.
Lars Ulrich, decent drummer, great songwriter, great arranger, good feelings for cool beats, smart, well-spoken, motormouth. He might be a jerk, but he's my jerk and I love him.
Recap
The game started better than the last and the guys seemed to have some jump, they even got some chances, but sadly they made to many turnovers and the Canes got to control too much of the game and they even had a long period of extended zone time against the Flip-line and Meech and Stuart. The Wings came back from that with some excellent shifts, especially one by the 'vettes line that had some great chances, including one where a Meech shot hit Draper's stick. If he'd been Homer he'd have scored. And then the Wings got a PP. I prayed to Frank. I should do that more often. It works every time. After a weird start Miller got set up in front of the net and Nick took a shot that went low and straight into the net. His first since the 3rd game of the season. Not long after that Filppula took an unlucky penalty. The Canes PP looked good, but good blocks and clears killed it off. After that the only notable thing that happened was a vintage Pasha feed that was perfect for Filppula, but he got hooked a tiny bit and juuust didn't get enough of his stick on it.
Very early in the second period Helm drew an interference penalty. I prayed to Frank again and right off the bat a pass that was cut off landed right in front of Miller who slammed it in. Not much later Filppula got away, but he got hooked twice. Weirdly not a penalty shot, but a penalty. The Wings didnt score, but the Canes came close to putting one in their own net. After that the game went back and forth for a while. Then Bertuzzi got a half break from another great Pasha feed, but Pitkanen managed to tie him up. A little later the Wings got another PP which resulted in nothing despite some good play. After that the play went back and forth again and the Canes had a great chance on a scramble in front of the net. They had some nice chances later too, but Detroit defended well and Howard was great. At the end of the second the Wings had some nice chances including a Bertuzzi shot that hit the post, a play by the Circus line where they just passed around for a while (made me happy to see that again) and a shot by filppula that knocked Ward's mask off.
The third started with chances both ways. The Wings had the best ones and Z could have potted a couple, but it seems like his hands aren't 100 % back yet. Then a weird shot was saved by Jimmah, but he failed to hold it to his chest and the Canes hammed home the rebound. Less than a minute later Val took another penalty, but the Wings killed it off. The Canes seemed to get a jump from their goal and attacked hard, but the Wings played responsibly and Howard was good. And the Wings got some counter attacks. With a little more than five minutes left Bertuzzi found a turnover and served Zetterberg an open net. 3-1. The Wings controlled the rest of the game. Towards the end Bert almost got a breakway after a bad turnover, but he got both hooked and slashed. The Wings closed out the game 5-on-3 without scoring.
Kirk Hammett, not the fastest guy, but boy does he have a sense of melody. While he might not solo like Zappa did there are few who can match him.
Thoughts
- I told Kris at the excellent SnipeDangle (the blog that inspired me to start on my own - snipedangle.blogspot.com can't link it, seems to fuck up the whole post for some weird reason) that I think her recurring GP question if Nick could score jinxed him. She took it down for this one... Yeah, you can thank me now people.
- Sooo good to se the Perfect Human score
- Good to see E back too.
- A game with commercial breaks is NOT "Non-stop Red Wings"
- Eaves had a PK shift where he blocked two shots off his chest (while standing) and then fought hard and cleared it. 40 seconds later he was on the ice and cleared it again.
- I was scared on a couple of Jokinen chances until I remembered he only scores huge playoff goals.
- Nice for Nurse and Sara to get to see a win after having to suffer through the Hawks game in December.
Cliff Burton, 1962-1986, bass player extraordinaire and the man behind the greatest piece of music ever, Orion. Rest in Peace
Keys to the game
- Can the Wings look like they want it?
They looked much more energetic in this one. Way better. Good game.
- Can they like make passes that hits the right player and on the blade, not in the skates?
A few turnovers, but they at least completed most of their passes. Much better here too.
- Which Pasha will we get?
A very different Pasha tonight. He looked like he wanted it, he played hard, was creative, looked interested. And man he made some great passes.
- How will Ericsson look?
A little spotty here and there, but mainly good. He has a poise that the Mebdeech's (TMHollis) and Janik's lack.
- Can Howard do something amazing?
Well, he had another good game. Made some crucial saves.
- Z has looked like he's either still injured or just has lost some upper body strenght. Can he prove me wrong and win his battles tonight?
He looked much stronger. Still a way to go, but this was much better. Strong on the puck several times.
- Will we see my readers Sara and Nurse Nitz on TV tonight? They got my help with some Swedish for some posters welcoming back Z and E. If anyone sees posters with Swedish on them then tell me. Have fun ladies!
Didn't see it, but I use breaks to tweet and write here and at A2Y, so I might have missed it. I did see a lady in (I think) a winter classic jersey in the corner with a board/poster, but couldn't read it.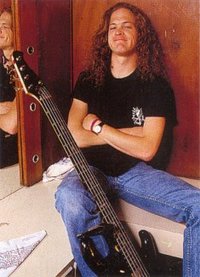 Jason Newsted, bad bass player, whiney bitch, turd, should never have been in Metallica
Play of the game
The Nick goal gets this by default yes?
Rob Trujillo, brilliant, brought the bass back in Metallica
Player of the game

Drew Miller was really, really good.



Bonus question


Guess from what you know. Do I play bass with a pick or my fingers?