The only reason I have ever found to like the Kings
(We (or I) still want Ritola)
Remember two hours ago when it was 2-0 and everything was made of dreams and rainbows? Yeah... Don't you just hate how the Wings start off so well and then blow game after game after game. I am done with this. Change that, now!
Recap
The first period started weirdly with a lot of neutral zone play and few chances. Then Filppula took the puck out of the corner, gave it to Cleary, got it back and it seemed like everything moved in slo-mo from there. Flip dangled one guy while Miller tied up and another, outwaited Quick and roofed it. 1-0. Patience taken to a new level. Then Frolov high sticked Helm and the Wings got a PP. In the middle of that PP Meech blew a tire and the Wings got a break on one of those retarded calls where the far referee calls a penalty on something the near ref saw and didn't call. The Wings used no time on the 5-0n-3. Nick and Rafa switched sides, Rafa shot and it went off Bert's knee and in. The rest of the PP looked dangerous too. But after the PP the Kings had some great shifts and chances. The Wings came back after that, but while the refs were making up by ignoring a couple of Kings plays that could have been penalized they gave the Kings a cheap PP which was killed off. In the last minute the Kings had a great double chance, but Jimmah and Miller killed it off.
The second started with a play where good forechecking from the Kings and no support from the Wings led to a turnover from E. Howard couldn't hold the shot and Rafa failed to clear it. 2-1. The circus line came back with a crossbar off a huge Rafa slapper, but the Kings really took over the momentum. The Kings continued that and got some great chances while the Wings got notghing going. The Kings then got a PP from a Meech penalty. It looked dangerous, but didn't score. Meech got a breakaway out of the box and though he stubled a bit he got a good shot and was close to batting in his rebound. He then was strong on the puck alon in the zone. I wouldn't mind seeing him in a forward role. This seemed to wake the Wings up a bit and they looked better for the next few minutes. Though the Wings had some nice pressure in the last few minutes the period ended with the score 2-1.
The third started with more Kings pressure and Stuart saved a puck on the line that both the refs and video room managed to make the right call on. Baffling. Shocking! It didn't help though as a horrible defensive play from the entire 2nd line (which has gotten dominated a lot lately) led to a guy getting completely open and scoring. Then Meech got worked by Kopitar and Stuart failed completely to tie up his man. 3-2. Gameblowing complete. The Wings started to pressure a bit after that and got a PP. A couple of good chances, but no luck. The Wings pressured towards the end even though they played the last 2 mins shorthanded, but couldn't score. Fuck you Jobu.
I like the fact that she has grasped what most ice girls don't get: Smiling is hot. At least look like you enjoy being used as an object to please a largely male fanbase in a city that doesn't get hockey (and a guy in Norway with nothing better to do while waiting for the game to start).
Thoughts
- Leino wasn't great, but really had some hustle tonight. I liked it.
- Dean Lombardi = Masshole
- Oscar Moller's fan on the PP was hilarious.
- Flip must be the best English speaker in Finland, cause they're usually horrible and he's pretty good. Still I'd use 5 seconds to tell that he was Finnish just from his accent. Love Finns.
- Hilarious play where Jack Johnson back up into a Flip hit.
- Kronner back next week would be swell. I'll believe the Lilja news when I see him play.
- Stuart, E and Meech got completely outplayed by the Kopitar line all night. I am also really tired of seeing Flip, Cleary and Miller be horrible defensively.
Oh, look I found more of her. (I know, way to alienate the 50-75% of my readers who are female).
Keys to the game
- Can the Wings seem like they actually want to make the push here and play a full 60 minutes?
They came out nicely and battled, though they didn't have as dominant a first period as they had the last two games. But in the second they seemed to lose the punch and just relax too much once again. Annoying that they can't play a full 60 with full force. And they came out flat in the third too and blew the rest of the lead. Disgraceful. Horrible, just horrible.
- Eurotwin excellence?
They seemed to stear the play very well and created a lot of havoc in the Kings zone. Not as dominant as their best games, but they were pretty good.
- How amazing will Helm be?
Helm was fast and battled hard as always. Does he ever have a bad game? (No.)
- Can Howard upstage Quick once again?
Howard made some huge saves and Quick looked shaky, but came up when they needed him. Howard's rebounds are scary though. And one of them led to a goal. The second and third he had no chance on.
Just because I like the rythm of hot chick, hot chick, hot chick, really ugly dude, hot chick. And because I hate, but respect Ryan Smyth
Play of the game
Flip's goal was amazing. He slowed the whole thing down, showed poise and patience and dangled well. And the fin(n)ish was excellent.
Player of the game
Nicklas Lidström had a very silently good and dominant game. Beautiful.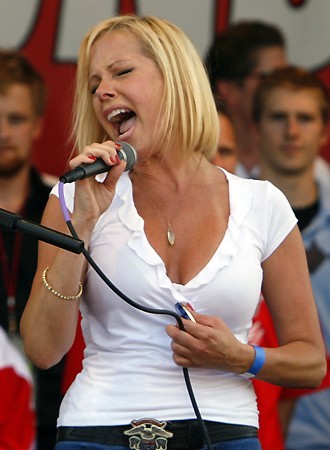 The reason the Wings don't need ice girls. Also, while I hate the North American ways of doing national athems, I can somehow enjoy her version. I wonder why...