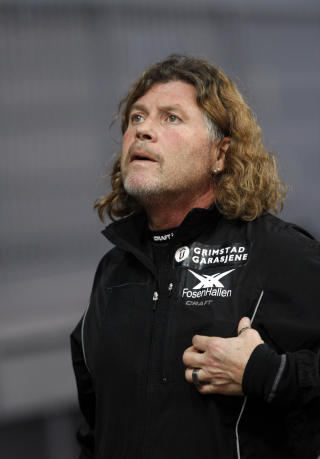 Former American Olympic speed skating champion Peter Mueller. He was recentaly fired as the coach of the Norwegian speed skating team for sexual harassment. To my huge disappointment he is not the same Peter Mueller as the one on the Coyotes
Recap
I didn't find a feed and used first 10 minutes to buy ESPN 360 Center Ice (Europe version of Center Ice) for 99 Euros, totally on impulse. Scary shit, but I think I can afford it. And it's for a full year. Hey, let's call it a celebration of me finding out today that i got a B in a subject i thought I'd sucked in. Got it just in time to see both teams fail on a penalty each. After some good Wings minutes they got another PP. After a bad start to the PP, Lids and Homer had a feverish double chance towards the end of it, and then just seconds after the penalty ended Homer redirected a Nick shot into the net. The Yotes came back with an awesome shift, where Howard made an amazing Team USA goalie save. Then the Wings took over and started dominating again. The last couple of minutes were pretty even.
The Wings started best in the Second and the Vettes line had a great shift! Then the yotes had a good shift and Howard had to be big again. Then Lebda got a weak penalty and then Helm another that was both dumb by him and weak by the ref. 1:18 5-on-3. The Yotes of course scored. Fuck the refs. Gary, go kiss a donkey ass! On a following Wings PP they got nothing. Sad stuff. And then the Yotes took over again... The last five minutes were a litte more open unti, with 3,5 mins left Eaves took an interference penalty. Weak call, nice kill. Right after it Stuart got an almost breakaway, but Bryzgalov saved it. And then, gloriously, with only a few seconds left and after a good period, Homer tipped another Lids shot into the net.
The third started with some back and forth hockey until Doan took a dumb interference penalty. I prayed to Frank Zappa aka God for a good PP. Pasha scored on a nice feed from Bert. Both PP goals during the last 10 games have come after I prayed to Frank, just saying. After that both teams had some nice chances and both goalies had to come up big. As the end came nearer the Coyotes pressed a little harder, but the Wings stayed calm and they had as dangerous chances on the counter-attack. And then Helm used his speed for an empty netter. 4-1. great game. game over.
Thoughts
- Fucking Yotes announcers really suck. Especially Tyson Nash
- The Wings needs to win PP faceoffs.
- The ESPN 360 feed looks so much better than other streams. I also love how I can just skip to another game in the intermission.
- Something is wrong when Doug Janik joins the rush.
- Jobbing.com Arena. Gayest arena name ever (not that there's anything wrong with that).
- There seemed to be as many Wings fans as Dog-fans at the game.
- That Miller Lite commercial annoys me to death. I wouldn't even lift my fucking hand for Miller or Miller Lite. Weak ass pee sold as beer.
- FS Arizona had the douchiest thing ever in the intermission. It was like this: Look at how bad Detroit is doing and how good the Dogs are doing and then hockey is back in Arizona, blah, blah, with this kind of nice story-music. Lame.
- Did FS Arizone really draw up the zones?? Wow. Relocate, NOW! NOOOW!
- I love the Red 'vettes
- Love how the FSA guys talk about Yandle's speed and then Helm outruns him easily.
Keys to the game
- In the absence of Brad May, both Leino and Ritola gets to play. Will they have strong outings like in the Avs game
Ritola was good, but not as good as in the Avs game. Leino was also decent, but not much more.
- Will the first line produce tonight? Might we even see a Tuzzi marker?
Homer scored on a Nick feed, and then on another one. The two of them were on fire. And Pasha scored off a bert feed. nice.
- Can Helm build off his great game against the Avs?
He had a nice game, and got an empty netter.
- Can Jimmah show the team USA brass how wrong they were?
Yup, he made a few great ones. Another good game. Jimmah is your starter. Period.
- How awesome if Filppula and his hair gonna be?
His hair looked like a billion, no a trillion dollars. And he had quite a good game, though not awesome. But he's getting a great knack for Z/Pav-style stick battle winning.
- Can the Wings beat the future Seattle Metropolitans(?)?
YES and after giving the Yotes their first home loss in regulation since Nov 16th and two wins in a row they now deserve...KRISTEN BELL
Play of the game
The second tip by Homer. Absolute beauty!
Wing of the game
I'm gonna go with Nick for his assists, good defensive play and the fact he created a lot of offense and jumped up on some nice plays.
It's 4:27 AM and bedtime. Been up for 24,5 hours. Sheize... Good night people!