The women's 10 km free cross country ended as expected. Charlotte Kalla, Sweden's golden girl won the gold. Kristina Smigun, and Estonian woman who narrowly escaped a doping suspension a few years ago, won the silver. Her comeback this season hasn't been that good so far and her amazing race was a bit of a surprise. Enough to at least my suspicions (which generally pop up when Estonians, Finns and Russians do too well in these thing). Marit Bjørgen, a pereniall whiny loser from Norway took the third place. She has once again promised us a good season and says she feels good and for the first time in like forever she is sickness free in a championship and we have the right to expect a gold. But well, it went as I thought and she didn't go well enough. Other Norwegians: 8th Kristin Størmer Steira, 22nd Vibeke Skofterud and 49th Marthe Kristoffersen. Decent and as expected by the two first, but too bad by the two last. Results at
NRK
.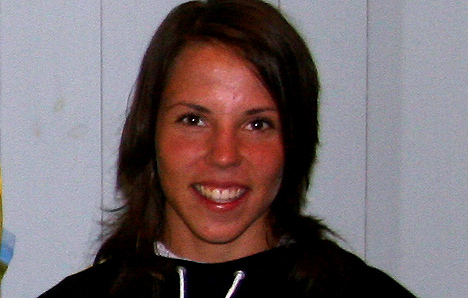 Swedish gold medalist Charlotte Kalla
In the men's downhill competition Norwegian outsider Aksel Lund Svindal followed up a bad start with an amazing finish. It was almost enough, but he got the silver, losing to Didier Defago from Switzerland with only 0:07 seconds. American Bode Miller took the bronze, 0:09 behind Defago. Absolutely acceptable by Svindal, but when it was that close, a silver is bitter. But at least this gives us hopes for the combination, where he should be among the biggest favourites. Other Norwegians:
Results at
NRK
.
Norwegian silver medalist Aksel Lund Svindal
The men's 15 km free cross country was supposed to be our worst xc event for men, but noone had expected it to be the worst xc men's event for Norway in the history of the Olympics. But it did, when our favourite Petter Northug had a bad day and just gave up and ended in 41st place and our other medal candidate Ronny Hafsås still felt his cold and ended in 42nd. Our two underdogs weren't much better and Tord Asle Gjerdalen was the best Norwegian in 28th, while Martin Johnsrud Sundby got the 33rd place. Dario Cologna from Switzerland won in front of Pietro Piller Cotrer from Italy and the Czech Lukas Bauer. Not good enough. I want to change my citizenship. I want everyone involved on trial for treason. Full results at
NRK
.
Of course, both our snowboard cross guys went out in the first round.