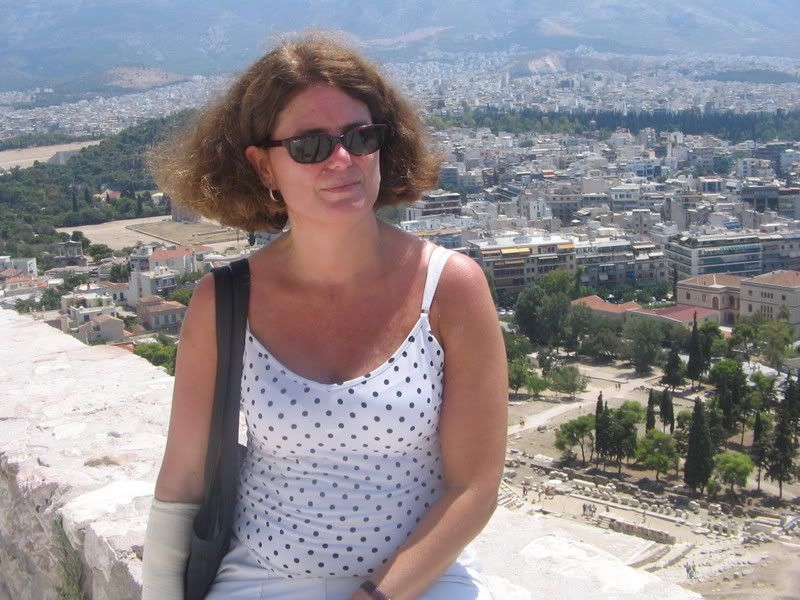 Today is one of the shittiest days of the year. My mom would have been 47 today. But somehow the universe decided not to let her get to that place. When she was 22, she was diagnosed with a rare liver disease. She could live with it as long as she took her medicines, but it weakened her immune defense systems. In 2002 we came pretty close to losing her, but she pulle through. After that, she had internal bleedings in the oesophagus a couple of times, nothing serious, but you know, annoying stuff. Then, in late september 2007 she had another bleeding, was admitted to the hospital, and there they found out she had another infection. They couldn't locate it (it turned out to be peritonitis, but they found out in the post-mortem) and after 2,5 days in an artificial coma, she passed away at 3:05 AM October 1st 2007. This is my tribute to her.
There are a lot of things to say about my mother. She was beautiful, kind and a person who left a mark on everyone she ever met. My aunt recently was at a dinner party and met a woman who worked with her for a year. When she found out my aunt was my mom's sister in law, she broke down cryin. But this is a hockey blog, and I think a description of her as a hockey mom is a nice way to talk about the kind of person she was.
With the condition my mom had, it would have been easy to kind of live a half life. Not work that much, avoid having kids and taking things easy to live a longer life. OH HELL NO! My mom could never deal with that. She finished her law studies, did years of work in the Department of Environmental protection and then end up as the head of the law department at the National Anti-pollution agency. Over that time she also found the time to have four kids. And she and my dad never held back a second when it came to letting us be active. I played football and hockey as a kid, as did my brother (he still plays hockey), my oldest baby sister used to play football and do cross country skiing and she still plays footie. My smallest sister still does both of those things. My parents were always there when I played hockey. They would be at 95 % of my practices and one, or often both of them, would be at every game. My mom was never very interested in sports. And because of that she would mostly stay at home in the evenings and tend to the house while my dad watched me practice and drove everyone around. But when my dad was away on buisness, or the one or two days per week when they switched, she would drive us, watch me practice and have a huge interest in what we were doing. She was never a hockey fan, but when I started playing it was completely natural for her to become a fan and she had a huge interest in the hockey me and my brother were playing. She became a fan to the degree where she perfectly could break down a game or practice and tell me what I had done well and what I had done wrong. I know she hated the machoism between the hockey parents, as did I, and so did my father, but she would sit with them and be as interested as anyone else. She was the woman who would either drive me 7 times per week or have an extra dinner ready when I came home from practice, no matter when. She decided that she would rather have a full life and do everything for her kids, than a long life. And as hard as it is dealing with her being gone, I am still grateful for that. It was 19 and a half wonderful years.
I feel I have failed in writing this. I know I cannot in any way give a good enough representation of who she was and how wonderful she was. It is easy to glorify the dead, but believe me, she was the most selfless woman I have ever met. The most purely good person I have ever met and even the co-workers she struggled with, because they didn't like strong leadership, still send us flowers at her birthday, they still have a huge picture of her at her workplace. My dad probably summed her up the best, when he, an atheist, said that she was the perfect Christian. Good, selfless, never pushing her religion on anyone, just living as Jesus told us to live.
I don't know why I am writing this, I am hungover, sad and just need to went. Sorry for taking up your time with this.
Mom, happy birthday, thank you for your love, kindness and support. Thank you for being there for me every day for 19 and a half years. Thank you for still being there for me in my heart. I love you more than you know, more than I ever managed to tell you. I miss you every day, and in every moment. It is not the same without you.
Julie Danbolt Ajer
080563 - 011007
Rest in peace